Frost & Sullivan Recognizes Camozzi spa for Outstanding Customer Service in the Western European Pneumatic Valves Market
---
05 Agustus 2010

LONDON – 15 July, 2010 – Based on its recent research on the pneumatic valves market, Frost & Sullivan presents Camozzi spa with the "2010 Western European Customer Service Leadership Award". The mature and consolidated pneumatic valves market in Western Europe requires manufacturers to excel in the area of customer service for gaining a competitive edge. Camozzi spa has raced ahead in the market, offering complete solutions along with outstanding customer service.
"Camozzi spa's C-Solutions system engineering service, developed by leveraging the rich experience and expertise of the company's engineers and technicians in several end-user industries like automotive, transportation, life science and food processing, manifests a high level of customised pneumatic automation solutions," says Frost & Sullivan Research Analyst Ashish Prasad. "One of the prime benefits offered by this service is that the pneumatic components such as the valves manufactured by the company can be pre-assembled and shipped with a unique part number (to the assembly plant of customers) which ensures faster delivery time and high-quality assembly operations."
Camozzi spa incorporated customer relationship management (CRM) into its service portfolio, using it to monitor each activity, right from the initial stages of the evaluation of the needs of the customers to the final delivery of pneumatic products. Moreover, the company assists its original equipment manufacturer (OEM) customers in the installation and maintenance of machines, which supports them in achieving operational efficiency. OEMs/end users stress not only on high-quality customer service but also on the quicker delivery of the same, which is one of the key competitive factors in the market.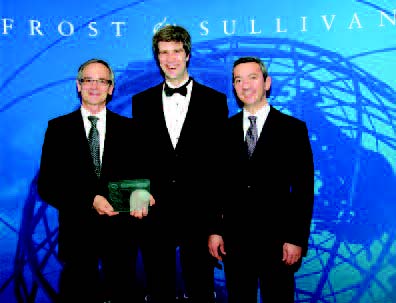 The moment of the award conferment with Rolf Kohler,
Strategic Marketing Manager and Marco Camozzi.
"Customers increasingly prefer just-in-time (JIT) services, which ensure minimal downtime in their plants, thus leading to significant cost savings," explains Prasad. "For a supplier of pneumatic valves, it is essential to maintain proximity with customers and constantly optimise distribution and sales channels, which, in turn, will ascertain prompt customer service and a wide customer base."
The company has a significant presence in key Western European markets such as Italy, the United Kingdom and Germany. It has two large plants in Italy, producing more than 4 million valves annually. In addition, its sales and distribution channel is optimised through the maximum number of distributors present in the region. Similarly, in Germany, which is the most important market for pneumatic valves, the company operates through three distinct channels – direct support, automation partners and distributors. Such wide coverage and strong presence have facilitated great customer interaction for the company, enabling it to emerge as the leader in providing JIT services.
"Camozzi assures delivery of nearly any type of pneumatic valve on the same day, through its extended sales organisation," says Prasad. "It has a dense network of branches and distributors in every part of the Western European market to ensure a faster delivery of its products directly to its customers' manufacturing locations, in case a downtime resulted due to the unavailability of replacement components."
Value-added services are considered as one of the key strengths of the company and there has been continual improvement in this direction. The integration of processes within the organisation, which also ensures lean manufacturing, provides for real-time information sharing with customers, streamlining processes related to order processing and so on.
Moreover, Camozzi continuously monitors and evaluates every opportunity pertaining to improvement in current business practices and computes return on investment (RoI) for its customers. Therefore, customers are able to witness significant reductions in their operational costs due to the constant support and timely service from the company. Camozzi assists customers even after the delivery of products and services, in order to ensure maximum utilisation of the services, after which it evaluates the level of customer satisfaction through its CRM tools.
In addition, the philosophy of open communication with customers is sustained through the company's "permanent open house", where the customers are invited to visit the Camozzi facilities and meet the staff and technicians. The Camozzi Competence Centre also offers several training programmes for its customers, like training on pneumatic components and dimensioning, intelligent pneumatics and so on.
Significantly, Camozzi is able to match competitors in terms of the price of its premium services, but with better delivery and impact on customer value. All these factors add up to high customer satisfaction, which makes Camozzi spa the worthy recipient of the 2010 Customer Service Leadership Award in the Western European pneumatic valves market.
Each year, Frost & Sullivan presents this award to a company that has demonstrated excellence in the timeliness of offering a novel service. The award recognizes efforts towards innovation, quality and cost effectiveness as well as the impact on customer satisfaction.
Frost & Sullivan Best Practices Awards recognize companies in a variety of regional and global markets for demonstrating outstanding achievement and superior performance in areas such as leadership, technological innovation, customer service, and strategic product development. Industry analysts compare market participants and measure performance through in-depth interviews, analysis, and extensive secondary research in order to identify best practices in the industry.